---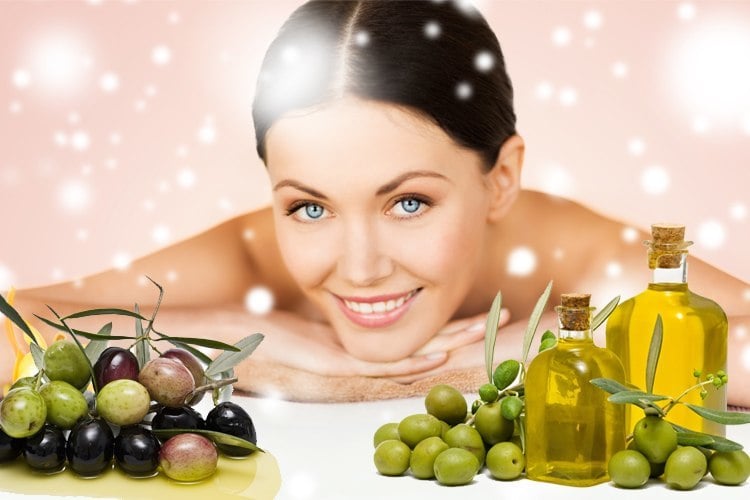 ---
Have you ever admired a woman with beautiful skin? Well, if you yearn to have a flawless complexion then we have your one stop shop miracle wonder in Olive oil. Since time immemorial, rather from ancient Egyptian days, people have been harping on the benefits of using olive oil.
[Also Read: Olive Oil: Uses, Benefits & More..]
Well, one can safely blame Cleopatra, or the beautiful Italian actress- Sophia Loren, olive oil was a staple in their beauty care routines. Often termed as liquid gold, it has worthy beauty benefits which aid in looking gorgeous and not simply relegated being tagged as cooking oil.
Thankfully, olive oil is readily available across stores and is reasonable at the same. Most olive oil based creams, soaps, cosmetics, scrubs, facial masks & body lotions are doing exceedingly well, as they provide the much-needed minerals and natural fatty acids.
Add this wondrous olive oil to your beauty basket to avail the benefits it must offer for your skin, face and nails.
OLIVE OIL FOR SKIN
1. Exfoliation
With a day's grime and pollution tarnishing your beauty, you will need an effective remedy and you will be amazed at the effects of olive oil on face. Your night beauty regime can be enhanced by combining olive oil and natural sea salts for exfoliation. The mild abrasion effect of the sea salt along with the deep penetrating effect of olive oil, helps get rid of the dead skin cells and gives a glowing finish to the face.
2. Keeps The Pores Clean
The olive oil on skin has a remarkable influence that will stun you. It penetrates deep into the skin and works well as a cleansing agent. It doesn't close the pores instead allows them to breathe and remain healthy.
3. Anti-Aging Remedy
The olive oil is known to contain antioxidants like Vitamin E, polyphenols and phytosterols which helps shield the skin from premature skin aging. The vitamin E is the main component that fight the aging phenomenon. Hydroxytyrosol that is present in olive oil rescues the skin from radical damage. It also contains a component called squalene acid that improves the elasticity of the skin, keeping it tight, young and firm.
4. Sunscreen
The olive oil when mixed with tea decoction works as an excellent sunscreen. Apply it thoroughly on the skin and leave it on for an hour. Wash it off gently. This natural sunscreen trait of olive oil is one of the best benefits of olive oil on skin, don't you agree?
5. Eliminates Stretch Marks
As mentioned before, the olive oil has the tendency of tightening the sagging skin. On daily massage of the olive oil on affected regions, we can lighten the existing stretch marks and reduce the occurrence of new marks.
6. Makeup Remover
Ladies, you might want to also wipe off your layers of stubborn eye or face makeup with this marvelous oil. Since the olive oil for skin has exceptional benefits, it is a fool-proof makeup remover. Dab a cotton ball in the olive oil and gently wipe off the makeup from the face. Wash the face with warm water followed by cold water to close the pores and promote blood circulation.
7. Healthy Manicure
Of all the uses of olive oil for skin, one of the best one includes manicure treatment. Apply the oil to your nail and cuticle for conditioning, provide nourishment and strengthen the areas.
Alternate method is to give your nails a warm olive oil bath. Soak your nails in warm olive oil for about 10 to 15 minutes. This will strengthen the nails and gives them a glossy shine.
8. Lip Scrub
Give special attention to your lips by applying coarse sugar with a drop of olive oil to fix your chapped lips or move the concoction on to the rest of your body with the same ingredients for a gentle exfoliation.
9. Cracked Heels
Moving onto your heels, if you have been suffering from rough heels, olive oil is going to help provide the much-needed moisture to heal. After exfoliating with a pumice stone, apply some olive oil to the entire feet, wear socks to hydrate your skin.
10. Removes Ear Wax
Have you been facing the embarrassment of ear wax buildup lately? Then you are on the right page. To flush out the clog, you have to put a little of the oil in the ears before you hit the bed, to aid in loosening up the overload of wax in your ears!
11. Oil Shower
Sounds insane, doesn't it? But if you wish to avail the benefits of olive oil for face, dive right into an olive oil shower. For this, add 5 tablespoons or more of olive oil to your bathtub and dip yourself in it.
Alternate technique is to massage the olive oil right after taking bath. Pat dry the excess oil and feel your skin smooth and silky.
12. Olive Oil Lotion
Olive oil when used as a lotion nourishes, hydrates, rejuvenates, soothes and protect the skin to the best of its ability. It makes the skin supple and radiant. Hence you can opt for this olive oil for skin whitening and glow. You finally have a moisturizer cum cleanser of sorts in the oil which you can use every night onto your skin without the fear of it breaking out.
13. Eye Cream
Olive oil on face benefits include its remarkable use as eye cream. Eliminate the wrinkles, fine lines near the eyes with this oil. Dab a couple of drops of the olive oil and let it stay overnight. You can also save this oil in the fridge and use it later as an eye cream.
14. Olive Oil Face Masks
The oil can be used in varied face packs for dry or dehydrated skin. This is a natural remedy to eczema hit skin as well; it soothes itchy skin almost instantly. Here are a few suggestions on how to use olive oil for face
Olive oil honey face mask:
Take a tablespoon of honey and mix it with one tablespoon of olive oil and egg yolk. Apply it evenly on the face and let it rest for 15-20 minutes. Rinse it off with lukewarm water and get the smooth, soft skin you always desired.
Avocado olive oil face mask:
Blend the olive oil with ripe avocados and apply this mixture on the face. Leave it on for 20-25 minutes and wash it off.
Skin whitening Mask:
Combine lemon juice with olive oil for face glow, whitening your skin, and say goodbye to skin lightening creams. Voila, you will end up with youthful skin like never before!
Olive oil and essential oils mask:
Simply make a home-made concoction by adding olive oil to a few other essential oils like- ylang ylang or geranium oil besides aloe vera gel and argan oil.
Olive Oil face mask for fighting germs:
And lastly, here's some quick remedy for making an antibacterial potion, simply add drops of olive oil to little lavender, calendula, and tea tree oil to keep off germs and light scarring.
Well, now you know olive oil has not made it to the beauty maven's kit for nothing! Looking fresh, young and radiant is not a distant dream any longer!